On 22 May 2023, SCOAF hosted their fourth Stakeholder Symposium. The event was held at Broadway House, London. The focus of this year's event was "Making Complaints Count" and was attended by a range of stakeholders and representatives from across the Ministry of Defence, Armed Forces and civilian organisations.  
The purpose of the event was to raise awareness of the role and work of SCOAF, to present and discuss the SCOAF Annual Report 2022, and offer an opportunity for discussion and networking.
This year's Symposium took a different approach than previous years. Firstly, it covered a full day. Focus group discussions were retained following the success of last year's event, and a panel discussion was re-introduced. Attendees also joined us virtually from Ombudsman institutions globally including Australia, South Africa and Canada.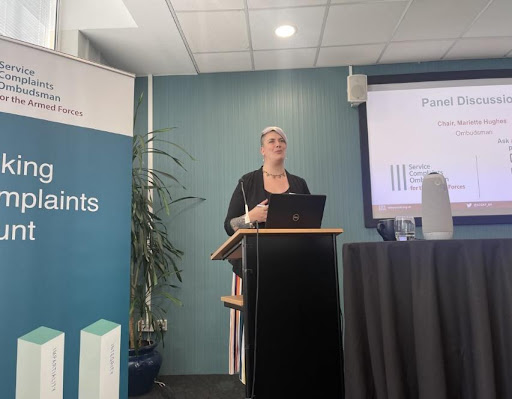 The symposium was opened by the Service Complaints Ombudsman for the Armed Forces, Mariette Hughes. The Ombudsman gave a presentation on the Service Complaints System highlighting successes such as a Tri-Service timeliness figure of 66% despite an overall increase in demand and the growing feeling that there is independence in the system. The Ombudsman focused on delay and that some cases are taking too long to resolve, and that the pace of change can feel slow.
SCOAF's Chief Operating Officer, Tariq Khan provided an overview of SCOAF's successes throughout 2022 which included exceeding its KPI with an overall timeliness figure of 94%. He also touched on the continuous improvement planned for 2023. This is primarily a review of SCOAF's current internal processes and our stretch target to reduce the backlog, so cases are unallocated for no more than a month in an effort to improve customer experience.
The keynote speaker at this year's event was Chief of Defence People, Vice Admiral Phil Hally CB MBE. It was interesting to hear VAdm Hally's views on the importance of digitalisation and how the right tools can improve efficiencies. He recognised that several Service Complaint related policies, including Joint Service Publications (JSP) could be difficult for some users to understand due to their length and language used – something he is keen to change.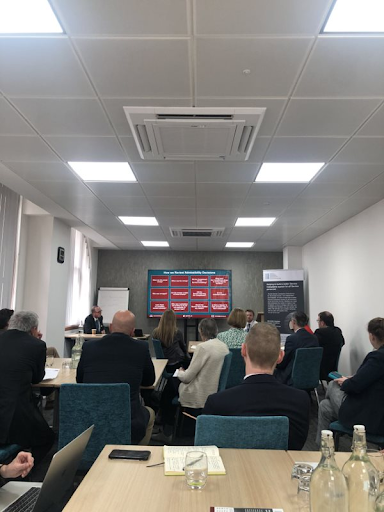 Following the presentations, attendees then took part in two of four workshop sessions. These sessions were designed to offer the opportunity for attendees to engage in more focused discussions on specific areas of interest, and to enable SCOAF to gather a wide range of insights and contributions. This year's workshop sessions focused on:
Making Complaints Count: Driving systemic change through lessons learnt.
More than words: The importance of language in complaints handling.
SCOAF and friends: Working together with our stakeholders. 
Behind the scenes: Understanding SCOAF's casework.
Feedback from these sessions was positive, with all participants engaging and contributing extremely useful insights. This feedback will be looked at more closely over the coming weeks to see what SCOAF can take forward.
The day concluded with a panel session, chaired by the Ombudsman with panel members representing each of the single Service Secretariats. This session invited questions from attendees which were wide ranging from questions about JSP 831 to Assisting Officer training.
Overall, the general message from the day was that while the Ombudsman cannot yet say the system is efficient, effective and fair, significant improvements have been made and we are getting there. It was also evident that there is a strong willingness from all involved to continue building on the improvements made. 
Speaking after the event the Ombudsman said, "The Symposium this year provided a fantastic opportunity for SCOAF to come together with a diverse range of stakeholders, share learning and successes, and discuss together the ways in which further improvements can be made. I am extremely grateful to all who attended for their enthusiasm, engagement, and insight. The last year has been extremely busy, and whilst it is clear there is more work to do, I am encouraged by the continuing commitment of all those involved with the process to delivering real and lasting change".
We hope that all the stakeholders who attended the event found it informative and engaging and we look forward to welcoming you back next year.