The Service Complaints Ombudsman for the Armed Forces provides independent and impartial oversight of the Service complaints system for members of the Armed Forces of the United Kingdom. Our Customer Charter outlines our commitment to you and what you can expect from us at every stage of the process. It also states what we need from you in order to deliver a quality service.
Our Commitment
At every stage of the process we will treat you with courtesy and respect. We will also:
provide information that is clear and easy to understand
explain our role and what we can and cannot do
act openly and transparently
keep your personal information stored securely and not share it without your permission
undertake our work in a fair and impartial manner
listen to your feedback and continually strive to improve the service we offer
work with the Ministry of Defence, including the individual Services, to help them deliver a Service complaints system that is efficient, effective and fair
publish information about the work of our office and the Service complaints system
signpost you to an appropriate service or organisation if we cannot help you
For more information about our commitment to you, read the link below
What we need from you
So that we can provide an efficient and effective service, we need you to:
treat all of our staff with courtesy and respect
provide truthful and accurate information in a timely manner
engage in the process at all stages
If you, as a user of our services, consistently fail to meet your responsibilities under this charter we reserve the right to place restrictions on your access to our services.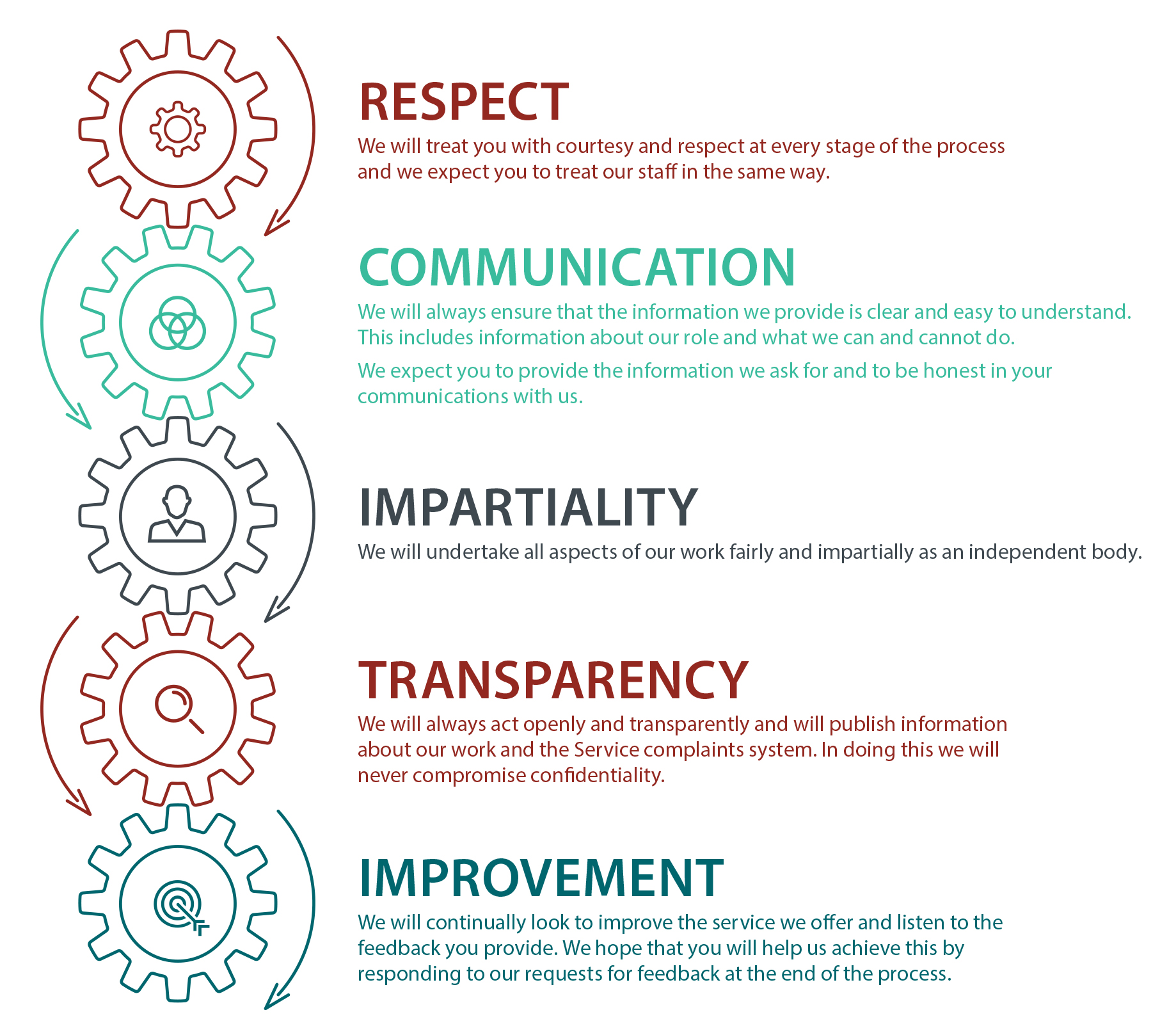 Unreasonable behaviour
In a small number of cases, people pursue their complaints in a way that is unreasonable. They may behave unacceptably, or be unreasonably persistent in their contact or submission of information. This can make it difficult to investigate their complaint (or complaints by others) and can have significant resource issues for our organisation. Unreasonable behaviour can occur while a complaint is being investigated, or once we have finished an investigation. What is the definition of unreasonable behaviour? Unreasonable behaviour is any behaviour which is aggressive and/or which is so persistent, or of such volume, that it hinders the handling of an enquiry or complaint. This type of behaviour could occur in an isolated incident or be a pattern of behaviour over a period of time. Unreasonable behaviour can include, but is not limited to:
Aggressive or abusive behaviour

Any behaviour that is threatening, abusive or intends to cause fear. This also includes verbal and written abuse.

Unreasonable demands

Demanding to set out the manner or timeframe in which a complaint is to be dealt with
Demanding outcomes that cannot be provided

Unreasonable persistence

Persistent contact
Sending excessive amounts of correspondence
Refusing to accept decisions and persisting to raise issues in which a final decision has been made

Unreasonable behaviour

Unreasonable lack of cooperation. This can include not providing enough information, refusing to provide consent but demanding action be taken, refusing to meet timeframes given etc.
Recording phone calls/interviews without consent
All measures will be taken to minimise unacceptable conduct without affecting the complainant's access to the Ombudsman's services. However, in exceptional circumstances, a decision may be taken by Chief of Operations to restrict a complainant's access to the Ombudsman's office.
Feedback about our service
If at any time you think we are not meeting our commitment to you, please let us know.
You can contact us by email.